29 Aug
Hey Everyone!
Long time no see! Eeep.
I have been cray cray lately with things on the go at work. I just had little to no spare time, and the spare time I did have was spent in my Pj's with Geoffrey, dreading the end of said spare time.
Ha.
Anyways craziness over, and I didn't even lose my mind.
Crisis averted.
Anyhoo, today I am going to be rambling on about my summer beauty favorites. These are the products I have been obsessing over this summer. I know, I know, summer is almost over, please don't remind me. BUT these products would also be great for a beach/hot weather vacation, which hopefully some of you will be doing this fall and winter.
Face & Body Products:
First up we have Garnier Brusher Gel Cleanser – Exfoliating Facial Cleanser
This little guy makes my face feel so fresh and so clean! I had a little breakup with my Clarasonic and we've been on a break for the past few weeks. I know a lot of people said they got breakouts at the beginning for the first couple weeks, and I was told it was your face 'purging' the toxins and bad stuff. Unfortunately, my breakouts were just not clearing up. After a solid three months of trying to get past that purging stage, I just gave up. I'm just not sure it is right for my skin.
I ended up picking up this little guy from the store, and it has worked great. I feel like it gets my face really clean, and it doesn't make me break out! win win.
You can grab one of these at your local drugstore for between $7-$8.
Next up, Vaseline Spray and Go Moisturizer in Cocoa Radiant
This moisturizer is just…ahhhhhh **angels singing**
It is SO hydrating, ridiculously easy to apply and on top of that, it smells fabulous. I love the smell of cocoa butter, and this moisturizer has that creamy sweet smell that lingers all day. This would be perfect to pack in your beach bag and spray on after you get out of the water. At home, its awesome for use when you get out of the shower, so it can absorb right into your skin. But where this product really shines, is those times throughout the day when your skin starts feeling dry. I have really dry skin and I hate applying moisturizer when my skin is already dry, its hard to rub into your skin and it just doesn't absorb properly. Because this is a spray, its much easier to apply and absorbs instantly!
I found mine at Shoppers Drug Mart, but I have seen it at every drug store and even most grocery/department stores. I think it was around $3-$4
This one kind of goes with the last product, Vaseline Lip Therapy in Cocoa Butter
Again with the cocoa butter and again with the ahhhhhhh **angels singing**
This stuff is just so darn moisturizing. It lasts a long time and you really do notice your lips feeling softer and more moisturized after using it.
I also found this one at Shoppers Drug Mart but again, I've seen this almost everywhere recently. $2-$3
For facial moisturizer, I have been loving this Clinique Redness Solutions Daily Cream
This stuff is amazing. I know a lot of people, myself included, have problems with redness all year round. Especially in the summer with heat and sunscreen and sweat and all that lovely stuff, redness can really put a damper on your plans to go fresh faced at the beach. Worry no more, this cream is soo soothing and moisturizing and it really erases any red patches you may have on your skin. I doubted that it would make a noticeable difference, but I was willing to try it anyways, and now I'm a believer.
You can get this at Sephora, online at Clinique.com or at your nearest Clinique counter. $53
Makeup and the like:
Starting with what I would put on my face first, we have Benefits The Pore-fessional makeup primer.
I must say, this is my all time favorite primer. I never used to use a primer and then I got a mini one when I bought that Clinique cream I mentioned before. I used that one everyday and I really didn't notice a difference, it felt like I was just putting extra moisturizer on before applying makeup. I had seen a few beauty blogs raving about this Benefit primer and I had to try it. I grabbed a tube at Sephora one day and haven't looked back since! I notice a huge difference when I am wearing this under my makeup. Your pores really do appear smaller and the makeup just goes on smoother. I feel like this really fills in my pores, so that they don't get clogged with makeup as the day goes on. I would recommend this to anyone!
Again, you can get this at Sephora or online at Benefitcosmetics.com $30
PS. did you know Sephora has a new Canadian website? www.sephora.ca and they ship to Canada for free on any order over $75.00. Or if you aren't spending $75, they have flat rate $7.95 shipping, or $11 for express shipping. Fab deal compared to over $20 before! Also they teamed up with Borderfree so all the price you pay in the checkout includes all duties, taxes and brokerage, so you don't get a shock when it arrives at your door.
Next up, in the makeup category, we have Revlon's Colorstay Whipped Foundation
Oh man, does this makeup mean business. It is super thick and you have to apply it with a stippling brush or your fingers to get an even coverage. It is a fairly full coverage makeup but what I like about it, is again, it stays put all day. With foundations in the past, even high end ones like Mac or Clinique, I would find that by the end of the day, it wouldn't even look like I was wearing makeup. It would disappear into thin air. This foundation results in a super smooth finish and it will not go anywhere for at least 8 hours. the package says 12 hours even. You do need to use a transparent or setting powder after this as it isn't a matte finish and if you have normal or slightly oily skin, it will need some powder to get rid of any shine.
You can grab this at any drugstore or most grocery/department stores. $10-$12
Another recent favorite of mine, are these awesome Maybelline Quads, called Eye Studio Color Plush Silk Eyes
Wow that's a long name.
The one in the photo above is my favorite one so far, it's in the color Coral Crush. It has a light champagne color, as well as lime green, coral and a deep brownish burgundy. I used the champagne color in my inner tear duct and brow bone, then I used the green on the inner quarter of my eye, the coral on the outside three quarters and the brownish burgundy in the outer V.
It's so bright and perfect for summer! All the pallets are very pigmented and have beautiful colors that match together.
You can find these quads at any drugstore or most grocery/department stores. $6-$8
Milani Color Statement Lipsticks
I don't even know what to say about these lipsticks. They are so creamy and luxurious, they don't dry out your lips or crease and crack like other lipsticks do. They are just silky smooth and last all day. Another bonus, is they smell amazing! They have this sweet candy like smell that I love. I picked up a few of these a couple months ago and have been using them 24-7. So good.
I grabbed them in nude cream and fruit punch, you can see all the colors /18/">here
They have these at my superstore now! Hopefully you can find them at yours too, or they are online at milani.com $5-6
Lastly for makeup, we have Urban Decay's De Slick Makeup Setting Spray
Again, a product that really works. This little guy helps your makeup stay on all day. It is perfect for summertime or a beach vacation because it helps to keep your face matte and to hold your makeup on so it's not melting off your face in the heat! Like many of you out there, I don't have hours to spend touching up my makeup all day, so this spray is awesome for keeping your makeup looking fresh from morning to night. The directions say to spritz some on your face before and after makeup application. Typically I just use it afterwards and I think it works just fine.
You can pick this up at Sephora or online at Urbandecay.com $20
Hair:
Now for the hurr.
I only have a couple hair products because I really don't use much in my hair. I don't like the feeling of 'product' in my hair, so I try to use as little as possible.
Again, in the order in which I would use these products, first we have Loreal Paris Total Repair 5 Replenishing Mask
This guy is SO moisturizing and it smells amazing. I have even been using this instead of conditioner. It is perfect for summer since salt water, chlorine and the sun can really damage your hair. I love using masks to make my hair feel extra soft and smooth. I used to have the Moroccan Oil Restorative Hair Mask and honestly, I like this one better. Especially the price! At $74 for the Morrocan Oil one, it has to be damn good to be worth spending that kind of coin. I think this Loreal one is just as good and I picked it up for under $4 at superstore!
You can nab this at any drugstore and most grocery/department stores. $4
Next up, we got Matrix's Amplify Wonder Boost Root Lifter
This stuff is awesome for giving a little extra volume in the roots, or all over your hair. You just spritz a little along your part and at the crown of your head, and then blowdry as usual. It really does make a difference and just gives you that little bit of extra oomph. Especially in the summer when your hair tends to fall faster because of the heat.
You can get this online at Matrix.com or at your local hair supply store. $18-$20
Next up, we have a blast from the past, Batiste Dry Shampoo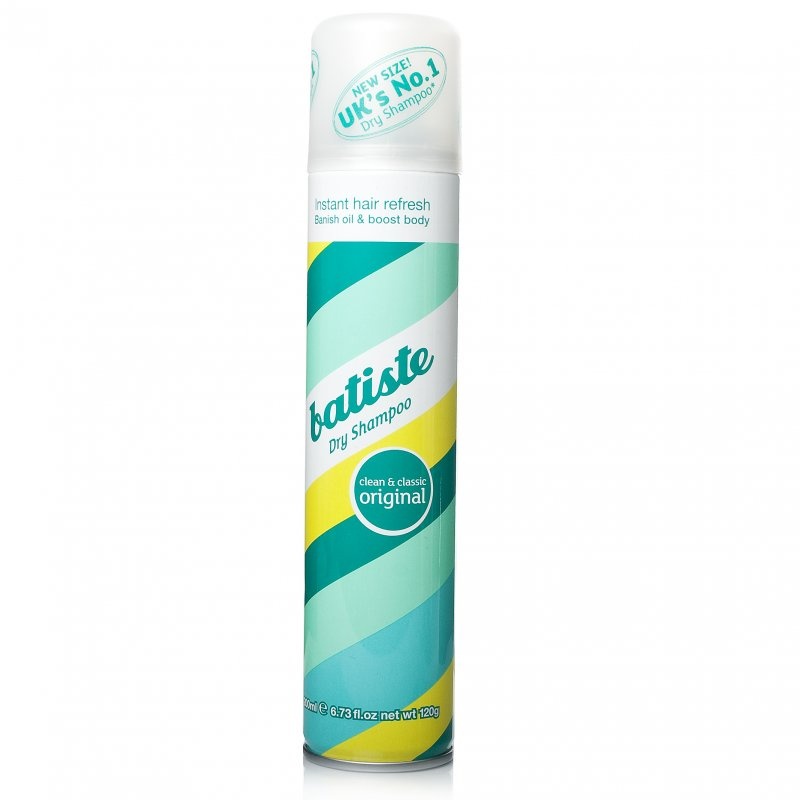 These things have been around forevs. They work well and give your hair and instant boost. Perfect for summertime or when you're on vacation and you need to refresh your hair after a day at the beach. My mind was just blown because as I was finding a link for this, I saw that they now have different scented dry shampoos, as well as ones specifially for dark or light hair.
You can get these at any drug store. $8-$10
Lastly, in the hair department, we have Loreal Elnett Satin Hairspray
This stuff is also old school. I remember my grandma having this brand of hairspray and obviously it worked then and still does! If it ain't broke, why fix it?
I mentioned before that I absolutely detest having sticky product in my hair and that is exactly why I like this hairspray. It feels soft and silky and it keeps your hair looking smooth and natural, not all crispy like. It also 'disappears with the stroke of a brush' which I love, at the end of a long night, the last thing I want to do is go to bed with hairspray in my hair. Have you ever done that before? You wake up with a fricken rats nest on top of your head. Not hot at all. With this stuff I can quickly run a brush through my hair and it's gone.
You can get this at any drugstore or grocery store, or maybe your granny still has a bottle left from the 70's…$8-$10
Okay guys, I'm done talking your ears off. Can you tell I am stoked about products? I want to start doing a monthly list of my current favorites. I am always trying new stuff and I know sometimes it sucks to buy things and not know if they will be good or not. Feel free to let me know if there is something you have been wanting to try and most likely I have already tried it. Or I would try it out for you!
I hope everyone has a lovely day. I will be back tomorrow with a round up of recipes that you can try for the long weekend!!
Miss Delish asks:
What are some of your favorite beauty products for summer?
Is there a product you have been wanting to try?